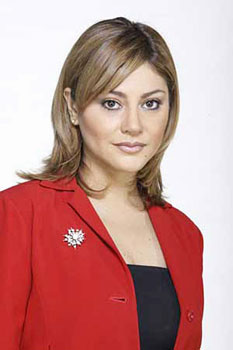 MARIELA SALGADO

Award-winning journalist Mariela Salgado began her career in journalism with an internship for Telenoticias Spanish cable news station in 1995. Three months later she was already an assignment desk editor and in that same year she became a producer and entertainment reporter. In 1997 she began anchoring for Telemundo International Cable news which focused its coverage on Latin America.
During the 2000 presidential elections, Salgado became the first Hispanic reporter in South Florida to unveil the flaws in the voting system in Palm Beach. As a result, she became a reporter for Telemundo's National Newscast, focusing on health, finance topics and breaking news. She continued to anchor for Telemundo International.
In 2001, she was part of the Telemundo team during the coverage of the September 11th attacks. She was also one of the first reporters in the Hispanic market to access the Islam community. Her participation in the news coverage was honored by the National Academy of Television, Arts and Sciences. When Telemundo's news magazine, Sin Fronteras, was created in light of the 9/11 attacks, she was chosen to be one of the correspondents for the investigative program. In 2005, her work was recognized with the prestigious Dalton Pen Award, which for the first time was given to a Spanish-speaking program.
During the war in Iraq, Mariela Salgado put herself through rigorous military trainings with soldiers of the Third-Infantry Division in Hinesville, Georgia.

Native from Chile, South America, Salgado has led outstanding investigations on labor exploitation of minors in Central America and the phenomenon of the "Maras" or gangs from El Salvador, Mexico and now the United States.

Salgado is known for her passion on reporting human-interest stories that appeal to the Hispanic community of this country. She has seen first hand the crude reality of Hispanics from Central America who end up mutilated by the train of Chiapas, in Mexico while trying to cross the border looking for a better life in the United States.
Salgado has interviewed prominent figures, celebrities like Shakira and Mana and political figures like ex Salvadorian president, Francisco Flores; Guatemalan president, Jorge Berger; Honduran president, Ricardo Maduro and controversial ex president of Argentina, Carlos Menem.
In 2004, Salgado became one of the few Hispanic reporters in Telemundo to crossover and report for NBC'S Nightly News.
Mariela Salgado received a Bachelor of Arts degree in broadcast journalism at Florida International University and has been distinguished by the Golden Key Honors Society. She is often invited by FIU to give advice to students on investigative reporting.