GANGS IN THE UNITED STATES
APRIL 2005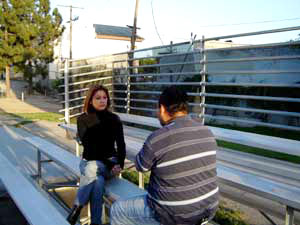 Gangs are linked to thousands of terrible assassinations, organized crime, and now an even grimmer realization: that they are possibly working directly with terrorists groups like Al Qaeda.
The Mara Salvatrucha (MS 13) gang, originated in El Salvador, has a network that extends to several states in the United States. They use Chiapas, Mexico as a bridge to reach U.S. soil and recruit more members, mostly teenagers. The gang phenomenon is no longer a Central American issue, but a regional problem. Security agencies in the United States are on alert and are taking action to confront the problem.
Mariela Salgado and her Sin Fronteras team traveled to the streets of Pico Union, in Los Angeles, to return to the area where over 20 years ago, Mara Salvatrucha was born.
People in the neighborhood of Pico Union live in fear. The reporter searched for answers to tell all sides of the story. She also interviewed the Los Angeles Police Department (LAPD) as well as the feared gang members of the MS 13.